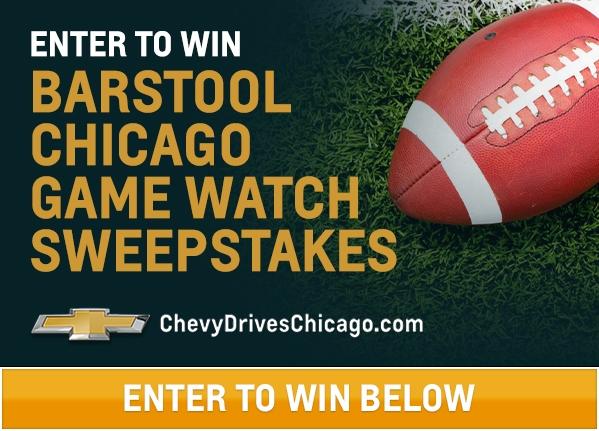 OFFICIAL RULES FOR THE CHEVY SAILS CHICAGO - BARSTOOL CHICAGO GAME WATCH CONTEST!
NO PURCHASE NECESSARY TO ENTER OR WIN. VOID WHERE PROHIBITED. THE PURCHASE OF ANY PRODUCTS FROM AFFILIATED PARTIES WILL NOT INCREASE CHANCES OF WINNING.
1. PROMOTION PERIOD. The Chevy Drives Chicago Barstool Chicago Game Watch ("Sweepstakes") begins at 12:01 A.M. Central Standard Time on September 7, 2023 and ends at the earlier of 11:59 P.M. Central Standard Time on September 20, 2023 and when all prizes have been given away ("Sweepstakes Period").
2. ADMINISTRATOR AND SPONSOR. The Sweepstakes is sponsored by Chicagoland & Northwest Indiana Chevy Dealers, 1025 W. Everett Rd, Lake Forest, IL 60045. ("Sponsor") and is administered by Chicagoland & Northwest Indiana Chevy Dealers, 1025 W. Everett Rd, Lake Forest, IL 60045 ("Administrator", and collectively with Sponsor, the "Organizers").
3. AGREEMENT TO THE OFFICIAL RULES. By participating in the Sweepstakes, all entrants fully and unconditionally agree to accept these official rules ("Official Rules") and the Organizers' decisions which are final and binding in all matters related to the Sweepstakes. Winning a prize, as described below, is contingent upon fulfilling all requirements set forth herein. By accepting a prize, each winner acknowledges compliance with these Official Rules. Failure to comply with these Official Rules may result in disqualification. The Organizers reserve the right, in its sole discretion, to disqualify any individual suspected of tampering with the entry process or the operation of the Sweepstakes; or acting in any manner deemed by the Organizers to be in violation of the Official Rules, unsportsmanlike, disruptive or with intent to annoy, abuse, threaten or harass any other person. CAUTION: ANY ATTEMPT BY A USER OR ENTRANT OR ANY OTHER INDIVIDUAL TO DELIBERATELY DAMAGE ANY WEBSITE OR UNDERMINE THE LEGITIMATE OPERATION OF THE SWEEPSTAKES IS IN VIOLATION OF CRIMINAL AND CIVIL LAWS. SHOULD SUCH AN ATTEMPT BE MADE, ORGANIZERS RESERVE THE RIGHT TO SEEK DAMAGES AND COSTS (INCLUDING WITHOUT LIMITATION, ATTORNEYS' FEES) FROM ANY SUCH PERSON TO THE FULLEST EXTENT PERMITTED BY LAW.
4. TO ENTER. You may only enter the Sweepstakes online. No other method of entry will be accepted. You may enter the Sweepstakes through the website URL at www.chevydriveschicago.com/barstool during the Sweepstakes Period and enter your information: first name, last name, phone number, e-mail address, street address (including city, state, and zip code), in the official registration area, located on the homepage. Entrants must fully complete and properly submit the online form. Incomplete or inaccurate online entries are void. After successfully transmitting a completed online entry form as directed, a confirmation will be displayed. Entries must be received within the Sweepstakes Period. To receive a copy of the Official Rules send a self-addressed, stamped business (#10) envelope to Barstool Chicago Game Watch Sweepstakes Rules c/o Chicagoland & Northwest Indiana Chevy Dealers, 1025 W. Everett Rd, Lake Forest, IL 60045 ALL REQUESTS FOR OFFICIAL RULES MUST BE RECEIVED BY September 15, 2023. The Released Parties (as defined below) are not responsible for lost, late, misdirected mail, damaged, incomplete, illegible or incorrect entries. Entries become the property of The Chicagoland and Northwestern Indiana Chevy Dealers and will not be returned. Limit one entry per person and physical address. Additional entries beyond the specified limit will be void.
5. ELIGIBILITY. The Sweepstakes is offered and only open to U.S. legal residents living in Illinois, Indiana, and Wisconsin, who at the time of entry, have Internet access and are 21 years of age or older. Employees, directors, and officers of The Chicagoland and Northwest Indiana Chevy Dealers, Search Optics USA LLC, Facebook Inc., and their parent, affiliates, subsidiaries, suppliers, advertising and promotion agencies and their immediate families (husbands, wives, brothers, sisters, parents and children and their spouses) and household members (whether or not related) of each are not eligible. The Sweepstakes are void where prohibited by law. All federal, state, and local laws and regulations apply.
6. PRIZES. There is one prize for the Sweepstakes. There will be one grand prize winner and he or she will receive one grand prize package, consisting of a one time experience football game watch at Cody's Public House on September 24, 2023 with the local Barstool Chicago media talent. The Organizers reserve the right, in their sole discretion, to substitute a prize of equal or greater value if the prize becomes unavailable or schedule changes. The winner must agree to comply with all applicable Sweepstakes regulations in connection with the prize. Prize may not be resold or offered for resale, and are non-transferable and cannot be exchanged for cash.
7. SWEEPSTAKES GIVEAWAY AND NOTIFICATION OF WINNERS. A random drawing will be held among all eligible entries received by The Chicagoland and Northwestern Indiana Chevy Dealers on or around September 21, 2023 by an employee whose decisions are final with respect to all matters relating to the contest. The odds of winning any prize depends on the number of eligible entries received. The winner will be notified by phone or e-mail (as provided on entry form) on or around September 21, 2023. Any prize notification returned as undeliverable/invalid phone number or e-mail address will result in awarding of the prize to an alternate winner. Winners have 24 hours to respond to prize notification. Failure to respond will result in forfeiture of the prize and an alternate winner will be drawn. Potential prize winners must respond to any required Affidavit of Eligibility/Prize Acceptance Form at time of claiming their prize. Prizes will be mailed to the winner once they have confirmed the acceptance of the prize, either by phone call or email, and mailing address has been verified. If any of the potential winners are found to be ineligible, or if he/she does not comply with the Official Rules, such potential prize winner and his/her entry will be disqualified and another potential prize winner will be selected from the remaining eligible entries received. Noncompliance within this time period will result in disqualification and an alternate winner will be selected. All federal, state, and local tax liabilities arising from the prizes awarded in connection with the Sweepstakes are the sole responsibility of each respective winner.
8. WINNERS LIST. For the name of the prize winner, send a self-addressed, stamped envelope to Barstool Chicago Game Watch Winner Name c/o Chicagoland & Northwest Indiana Chevy Dealers, 1025 W. Everett Rd, Lake Forest, IL 60045.
9. GENERAL CONDITIONS. By entering this Sweepstakes, each entrant agrees to defend, indemnify and hold harmless Sponsor, Administrator, The Chicagoland and Northwest Indiana Chevy Dealers, Search Optics USA LLC and Facebook, Inc., and their parent, affiliates, subsidiaries, shareholders, suppliers, participating retailers, agents and employees (collectively, "Released Parties") from any and all liability, damages or causes of action (however named or described) with respect to or arising out of participation in this Sweepstakes or out of the use of the prizes awarded herein. Released Parties are not responsible for lost, late, incomplete, stolen, inaccurate, misdirected, delayed, undelivered or garbled entries or failures or difficulties, or other errors of any kind whether human, printing, typographical, mechanical, telephonic, electronic or network relating to or in connection with this Sweepstakes, including, without limitation, errors which may occur in connection with the administration of the Sweepstakes, the processing of entries, the announcement of the prizes or in any Sweepstakes-related materials. Released Parties are also not responsible for any incorrect or inaccurate information. Persons who tamper with or abuse any aspect of the Sweepstakes or who are otherwise in violation of these Official Rules, as determined by the Organizers in their sole discretion, will be disqualified. Should any portion of the prizes be, in the Organizers' opinion, compromised by non-authorized human intervention or other causes which, in the opinion of the Organizers, corrupt or impair the administration, security, fairness or proper play, or submission of entries, the Organizers reserve the right at their sole discretion to suspend, modify or terminate the Sweepstakes (or such portion) and select the potential winners from all eligible, non-suspect entries received prior to its awareness of such suspected action. Entrants, by participating, agree that the Released Parties will have no liability whatsoever for, and shall be held harmless by entrants against, any liability, for any injuries, losses or damages of any kind, including death, to persons, or property resulting in whole or in part, directly or indirectly, from acceptance, possession, misuse or use of any prize or participation in this Sweepstakes, including any travel or activity associated herewith. The Released Parties make no representations or warranties of any kind whatsoever concerning the appearance, safety or performance of any prize.
10. USE OF DATA. The winners, by acceptance of the prize, except where legally prohibited, grants permission for the Administrator and its designees to use his/her name, address (city and state), photograph, voice and/or other likeness and prize information for advertising, trade and promotional purposes without further compensation, in all media now known or hereafter discovered, worldwide, and on the Internet and world wide web, in perpetuity, without notice or review or approval. Information collected from entrants is used by the Administrator for the purpose of the prize drawing and to notify winners. The Administrator and its affiliates may also send participants additional information and promotional material relating to products and services.